We teach both in-person and online lessons. In-person lessons are taught out of the Halls of Music home in Macon, Georgia, and online lessons are available as well for anyone anywhere!
Lessons offered on:
Bass Guitar
Ukulele
Composition & Music Theory
In addition to private lessons, we also offer group classes!
Student Recitals
While taking private lessons and playing in a group are great experiences, there is nothing like performing! We try to provide as many opportunities for our students to perform as possible. Most recently, some of our students have performed at The Allman Brothers Band Museum, Mellow Mushroom, and Bearfoot Tavern.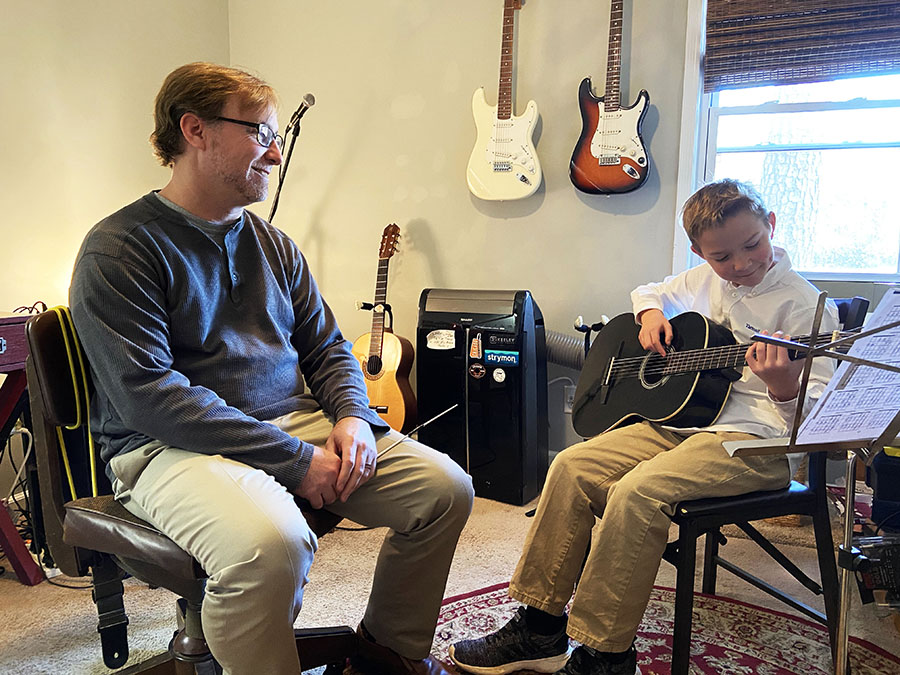 Private Lesson Details:
30 minute or 1 hour lessons offered on a weekly basis
First Lesson is always FREE!
Testimonials
Bobby Hall is an outstanding Guitar teacher! He has been teaching my son for a couple of years and it is just amazing to see how far he's progressed under Bobby's teaching. Lessons are a great combination of engaging fun and challenging exercises that really help the students engage and learn well. Reading music, music theory, cords, songs, song writing, playing on stage in recitals, contests, and educational games are all amazing methods Bobby uses to train his students. We are so blessed to have found him.
Emily and Bobby are exceptional teachers for both our girls (one takes piano and the other takes guitar). Seeing them progress so quickly and solidly has been a real joy to watch and has given me a real appreciation for how good they are at what they do – especially relative to other teachers our kids have had.
As a guitar player myself, whenever I see or hear what Bobby is teaching my daughter, I just nod and smile, knowing this is money well spent. Emily also has endless patience and truly understands the craft and how to harness her students' musical potential.
And when we attended our first recital, just experiencing first-hand the talent they nurtured in their guitar, piano and drum/percussion students, my wife and I were totally blown away. Highly recommend signing up your kids or yourself!
I can't say enough about The Halls of Music! They are incredible! My little girl is taking drum lessons with Mrs. Hall and is blooming under her care. My daughter has some physical challenges with dexterity but under Mrs. Hall's tutoring, she is finding success and even was in the latest recital. It's doing so much good for her confidence and her physical challenges in all aspects of her life. Mrs. Hall is not only an amazing musician and teacher but she is an incredible mentor and inspirational motivator to my daughter and to me.