To have or not have live music at your cocktail hour – that is the question! Though it may not seem like a big deal, the cocktail hour between your wedding ceremony and reception is a very important part of the day. The cocktail hour is the time in which you, the bride and groom, get a moment to breath and enjoy your first moments as husband and wife together before heading off to the reception. It is also the time at which you have your couple and bridal party photos taken.
What are your guests doing during this time? Hopefully they are enjoying each other's company while sipping on cocktails, nibbling on hors d'oeuvres, and maybe even enjoying some live music while they patiently wait for the bridal party to arrive.
But is live music really necessary? Can't you just play some tunes on your iPod and call it a day? Sure, you could play some canned background music during the cocktail hour, but we are here to tell you that live music is the way to go. Here's why: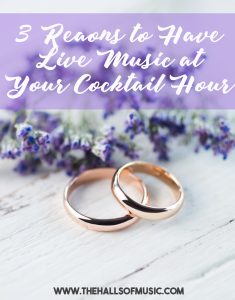 1. Live music is customizable.
Yes, you can customize a playlist on your iPod or through a DJ, but your iPod and DJ can't change the style of a song to perfectly fit the mood you're going for. Say that you're a fan of rock, but you know that playing rock during your cocktail hour won't go with the elegant and relaxed vibe you're trying to set. Live musicians can play all of your favorite tunes, but adjust the style and feel so that they come across more elegantly. They can even disguise them so well most people might not even realize they're playing Metallica's "Enter Sandman" on classical guitar. But you do! 😉
2. Live music is more entertaining.
The cocktail hour can either make or break the wedding guests' experience. If they are stuck for an entire hour with nothing to do while you're getting your photos made, they may get bored and restless, or even leave. You don't want their moods to be soured before the party even starts!
Providing your guests with snacks and beverages is good, but having live entertainment for them to enjoy truly adds to their experience as well. Who doesn't enjoy listening to and watching live musicians? Sometimes live musicians may even take song requests from your guests, which is always fun.
3. Live musicians can go with the flow.
One of the biggest benefits to hiring live musicians is that they can go with the flow and make adjustments to what they're doing according to their surroundings. If the crowd seems to really be enjoying a particular song, they can lengthen it, and vice versa. If something about the cocktail hour doesn't go quite according to plan, the musicians can help to take the attention away from the problem. The flexibility of live musicians really makes them an invaluable part of your cocktail hour.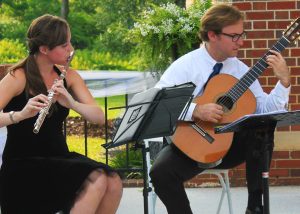 We wish you all the best of luck as you're planning your big wedding day! If you have any questions or would like more information about the different musical services we offer, including cocktail hours, please contact us.